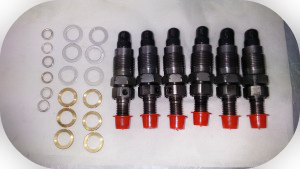 Worn FUEL injectors can cause lots of issues with your diesel 4WD – fuel economy and smoke issues are at the top of the list!
Jason from our workshop sent through a few photos today that we thought were worth sharing.
These are some before and after shots of a repair on some Toyota HZJ75 Injectors
"I checked first and found them to have worn nozzles, I then advised customer who wanted to proceed with the job."
"So we check over, then go to cleaning process, recheck, renew worn parts, new genuine nozzles fitted and pressure adjusted on Bosch calibrated pop tester to manufacturer specifications, bagged and supplied with a new washer kit.
To save time we have service exchange injector stock and they follow this exact same procedure and can be purchased prior to sending your own units back saving you downtime.