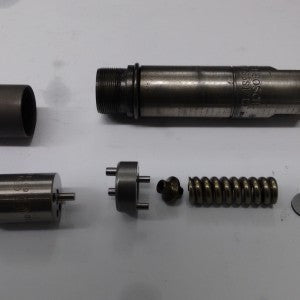 Our guess is the rust and nozzle wear on these John Deere 4440 Injectors is just from time, wear and tear and weather.
Damage to nozzle nuts, inlet thread and outlet surface – this can occur from wear and tear and weather
POP TEST TO CHECK SPRAY PATTERN AND PRESSURE
NOZZLE NUT PITTED AND CRACKED
INJECTOR BODIES COME OUT OF ACID CLEAN AND ARE POLISHED. NEXT INTO SONIC CLEANER TO REMOVE SOME MORE SCALE, INTERNAL PARTS GO INTO A TEA STRAINER AND INTO SONIC CLEANER
NEW GENUINE BOSCH NOZZLE NUTS, PLATE AND NOZZLES
PRESSURE IS SET TO 270BAR FOR THESE INJECTORS, SPRAY PATTERN IS THEN CHECKED .
BEFORE AND AFTER INJECTOR REPAIR