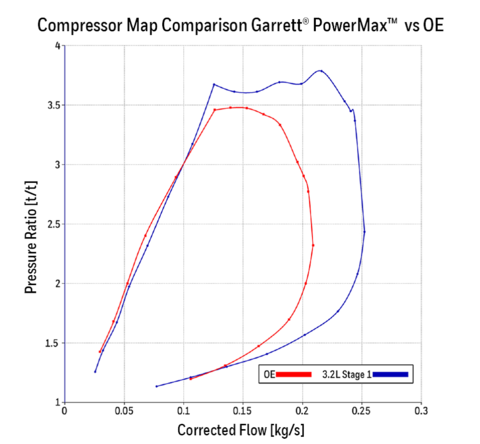 The Honeywell Garrett PowerMax direct fit turbocharger has been designed by Honeywell Garrett for the 3.2L Duratorq 5 cylinder diesel engine platform found in the 2011-2015 Ford Ranger PX and the 2011 Mazda BT-50.
The forged fully machined compressor wheel designed for the GTX gen II product line increases flow by 20% over the OE wheel.

With the correct engine calibration, this enables the engine to be tuned up to 172kW from OE standard 147kW.

 All Honeywell GarrettPowerMax™direct fit turbochargers are outline interchangeable with the OE turbocharger ensuring a perfect fit everytime!
- GTX GEN II COMPRESSOR WHEEL AERODYNAMICS 
- WIDER COMPRESSOR MAP FOR IMPROVED PERFORMANCE
- 20% MORE FLOW THAN THE OE TURBOCHARGER 
*Estimated performance results of this product are highly dependent upon your vehicle's modifications and tuning / calibration. The target power represented above has been calculated based strictly on choke flow of the compressor map (total turbo capability) which represents the potential flywheel power.