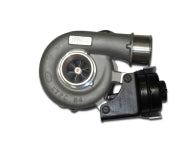 The turbocharger model number tells you information about the build specifications of the turbo but not necessarily what application the turbocharger is fitted to, for finding application information you need to get more specific by obtaining the turbocharger part number. 
This is an example of a MHI (Mitsubishi Heavy Industries) Turbo Model Specification: 
                  T -  Turbocharger   
                  D - Design Series (usually D or F)  
                 04 - Turbine Wheel Size 
                  H - Optional Suffix for Enlarged Diameter 

                  L - Optional suffix for Inducer Span (L=Large, M= Medium, S = Small) 

                 13 - Compressor Level 
               
                   T - Compressor Wheel Type 

                   I - Optional Suffix for small modification

                  8.5 - Turbine Housing Inlet Surface in cm2 
As you can imagine the turbocharger model can be used numerous times by MHI on different applications and can help in turbocharger identification but is not the best and most accurate way of finding out what turbocharger you are seeking. In that case the turbocharger parts ID tag will have that information. 
See more about Identifying your MHI turbocharger here 
MHI manufacture turbochargers for many vehicle manufacturers in both passenger and light commercial vehicles, truck, bus, marine, off highway and agricultural including Alfa Romeo, Audi, Bentley, BMW, Chevrolet, Daewoo, Dodge, Fiat, Ford, GM, Great Wall, Honday, Hyundai, Iveco, Jaguar, Kia, Landrover, Mitsubishi, Nissan, Opel, Peugeot, Porsche, Renault, Rover, SAAB, Seat, Skoda, Ssang Yong, Subaru, Suzuki, Volvo, Volkswagen, Yamaha, Komatsu, Kubota, Steyr, Toyota, Yanmar, Lombardini, Kawazaki, Kcec, JCB, Detroit Diesel, Caterpillar, Deutz, Cummins and more!