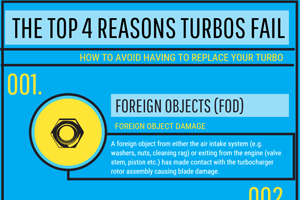 As a general rule turbos don't just fail there is usually an underlying issue, the top 4 contributing factors to a turbo failing are:
FOREIGN OBJECT DAMAGE (FOD)  

A foreign object from either the air intake system (e.g. washers, nuts, cleaning rag) or exiting from the engine (valve stem, piston etc.) has made contact with the turbocharger rotor assembly causing blade damage.

OIL CONTAMINATION          
The oil contains foreign matter (e.g. metal filaments, increased carbon particulates etc.) which leads to premature bearing failure.
LACK OF LUBRICATION
There is an interrupted or insufficient supply of oil to the turbocharger, leading to premature bearing failure and wheel contact with the housings (or shaft facture).

ENGINE ISSUES      
The turbocharger has failed as a result of a faulty engine component (e.g. compression leaking past injector sealing washers can lead to increased carbon in the oil, blocking the oil pickup resulting in turbocharger failure from lack of lubrication)
Need some advice before you make a decision give us a freecall on 1300 305 359!